Melissa Kowakowski – Spark Magazine Farm to Table
Voice Directed Tally Systems
Innovative research tools are equally integral for advancing a data-driven industry like agriculture. In Belleville, Ont., Voice Directed Tally Systems (VDTS), founded by Dave and Pat Ginther, has developed voice technology software, which is paired with a lightweight, head-mounted tablet, created by RealWear, that allows farmers and researchers to gather data simply by voice, enabling them to be hands-free to manipulate materials or operate equipment at the same time. While traditional, handheld technology only works in certain environmental conditions and requires researchers to look away from their workflow to make entries, RealWear's assisted reality wearable device is independent of Wi-Fi, wearable and voice-driven so that researchers can log their observations at the speed of speech, keeping their hands free. It's industrial-made for any climate or environmental condition like dust, rain or sun and it's very intuitive — it's available in 17 different languages, has specialized voice recognition for high-noise environments and can navigate accents from anywhere in the world. The gathered data, including photos, automatically downloads into an Excel sheet.
"Agriculture has a lot of manual processes. Researchers spend 40 percent of their time logging data, but that's time that could be used to get other things done," Pat explains. "VDTS is digitizing that manual process and advancing agriculture in terms of efficiency and the quantity of information gathered."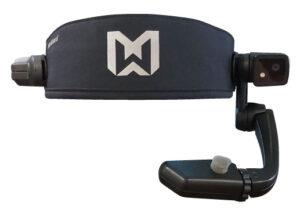 Not only can VDTS gather data by voice with audio and visual confirmation for what's been entered, but it can also capture photos and video, run a Microsoft Teams or Zoom call off the headset for live sharing, and its GPS can pinpoint the location of a researcher or problem in a field. And there's no risk of losing data: VDTS is equipped with an SD card for data backup and a swappable backup battery that can be changed out without turning off the system.
Then there's Voice Excel, a newly released software application by VDTS that enables the user to create a spreadsheet of their own design into the VDTS system, navigate that spreadsheet by voice and then export the information into Excel, eliminating the need to change the formatting.
VDTS is also currently doing trials with some of the world's largest crop science organizations, in talks with agricultural-focused post-secondary institutions and have recently expanded to Brazil, Argentina and the Netherlands. Other industries have also noticed VDTS's versatility for hands-free data gathering since VDTS can be applied for almost any industry, like manufacturing, natural resources and more (National Research Canada, for example, has adopted VDTS for the forestry industry).
"Agriculture is data-driven but also time- and budget-sensitive. Just as a farmer needs to yield as many crops as they can within a season with minimal cost, researchers need to yield as much data as possible within a specific timeframe while remaining on budget," Pat adds. "We can help. VDTS is the most versatile, robust system of our type in the world today."
An agronomist in a cotton field in South Carolina uses a head-mounted tablet created by RealWear to gather information about the plant, including height and number of boles(cotton) and branches using VDTS' AG research software.